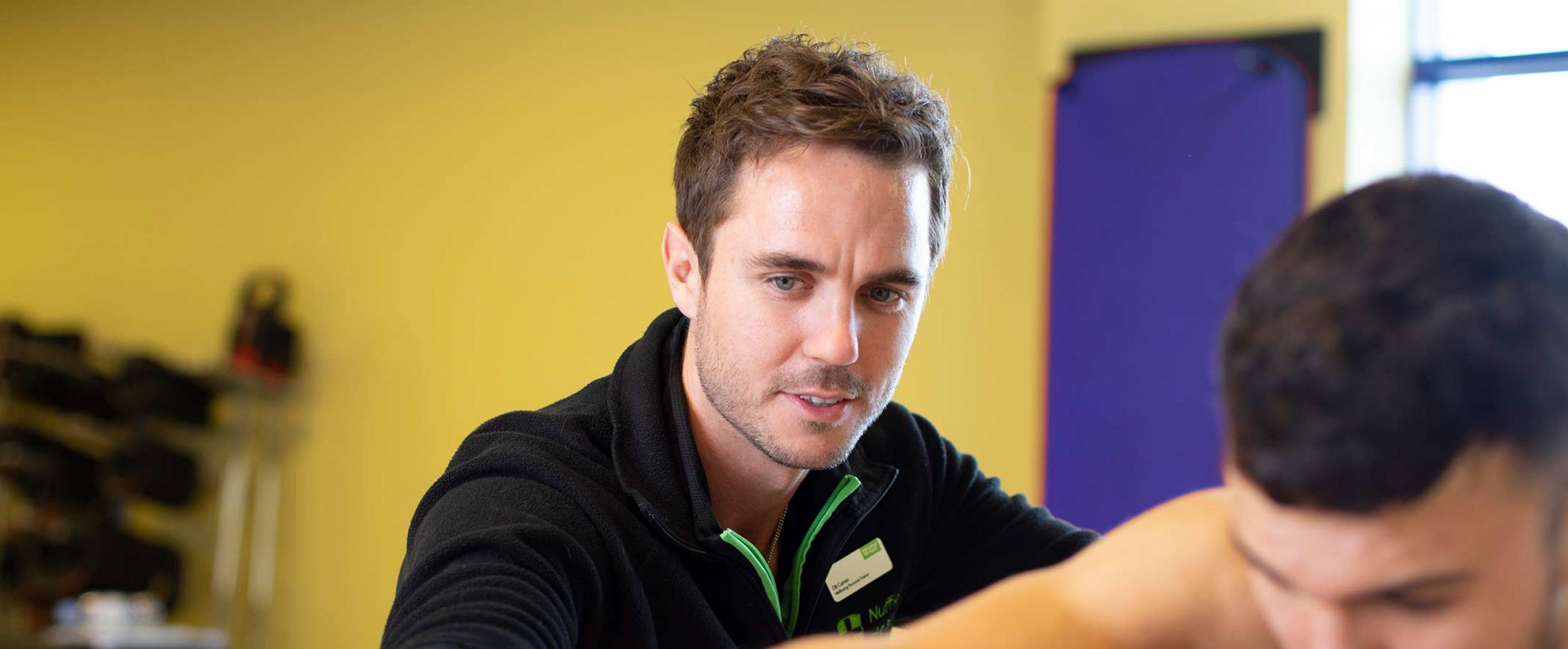 Fitness & Wellbeing
Wellbeing Personal Trainer
Personal Trainer – Milton Keynes Fitness and Wellbeing Centre
Do you have a level 3 Personal Training qualification?
Are you passionate about building a healthier nation and helping clients achieve their goals?
Do you want to earn up to £40k+ OTE with a base starting salary, fitness academy support and no requirement to rent space?
Are you ready to be part of one the largest Fitness & Wellbeing providers in the UK and grow your PT business from a readymade membership base? Then look no further and apply today!
As a Personal Trainer who is caring, dedicated and driven, you will love being a part of Nuffield Health. It is a place where you can develop your PT business and technical skills, progress and really make a lasting difference in peoples lives.
With all of the services of Nuffield Health at your fingertips, as a Wellbeing Personal Trainer, you won't pay a fee to train clients at our facilities and you will enjoy paid holiday. With a clear path for career progression, you will also enjoy unrivalled opportunities to move onwards and upwards, into wellbeing lead roles, healthcare or managerial roles.
We have a selection of contracted gym floor hours to get you started, ranging from 8-24 hours per week, based on your industry experience and career goals. There is an option to start on more hours to assist your client base growth. If you grow you client base rapidly, you will drop your gym floor hours to maximise your PT earning potential.
What will you do in the role?
Empower your clients to reach their health & fitness goals and maintain a healthy lifestyle.
Deliver our signature health MOT's sessions, inductions, engage sessions, programming sessions, gym floor activity and of course, your personal training sessions. This role is not your typical PT role.
Have the option to deliver group fitness, both on the gym floor (in small groups) and in the studio.
You're passionate about what you do so naturally you'll thrive off keeping your professional standards high.
We'll support you with training courses both face to face and virtually. We'll give you the autonomy to keep your professional development up.
Attending fitness team meetings and training sessions on a monthly basis, both to support and educate you on your career development.
What are we looking for in our PTs?
Trainers who truly care about their clients and willing to work hard to achieve their fitness career goals. This could be both on-site or digitally.
You will be able to engage with members, be approachable on the gym floor and have a professional attitude to developing their coaching skills.
Teamwork is at our core – whether a future leader, team player or star performer, you will recognise your value and be a great source of contribution to your team.
You will be mindful of your strengths and your development areas – to ultimately build a successful PT business and fitness career in Nuffield Health.
We employ newly qualified trainers, career changers and well established personal trainers to join our teams. All you need is to have a REPs Level 3 qualification or CIMSPA Practitioner, or above to be considered.
Our Benefits
We want you to be the best you can be. We will support you with academy training opportunities and career development options. Our unique health and wellbeing focused benefits package includes;
Free membership across all of our Fitness & Wellbeing clubs, for you and your partner.
Employer and employee contributory pension scheme Annual leave is 25 days per annum and rises with service. Plus bank holidays in lieu.
Life assurance, private healthcare and health-screening.
CIMSPA Annual Membership.
Discounted Education from Fitness Industry Providers.
Access to our unique PT Launchpad – Business Accelerator Online Program.
Weekly line manager support and training.
Internal client referral from our Physio and Clinic networks.
Access to the Perks at work reward platform which gives you access to cashback and discounts with over 30,000 retailers and service providers.
Like all of us at Nuffield Health, you do what you do because you care. Every one of our brilliant people is passionate about making a real difference. Apply today!
Location
Milton Keynes - Buckinghamshire
Contract type
Permanent
Reference
R0041086
Apply
Rewards & Benefits
Helping you be and feel your best.

Annual Leave
25 days + Bank Holidays, increasing to 27 days after 5 years and to 30 days after 10 years of service.

Nuffield Health Healthcare Plan
Membership is free for employees and you can add partner and dependants at your own cost.

Financial Wellbeing
A range of employee benefits through a Financial Wellbeing provider – including affordable loans repaid through salary, access to your pay when you need it, simple savings, a government Help to Save scheme and money insights.

Cycle to Work Scheme
Save money, get fit and reduce your carbon footprint by taking advantage of this tax-efficient scheme to get a new bike.

Gym Membership
Free membership to any Nuffield Health gym, plus discounted memberships for family members.

Online GP
Discounted access to secure video and telephone GP consultations and a suite of healthcare management tools, provided by digital healthcare company Doctor Care Anywhere.

Occupational Health
Provides you with support and competent advice on a range of health-related issues.

Physiotherapy
Free access to our unique Physiotherapy Triage Services and discounted virtual and face-to-face treatment.

Season Ticket Loan
Spread the cost of your annual travel ticket and save money with our interest-free Season Ticket Loan benefit.
Relevant Stories
Sharing memorable experiences.
Life as a Nuffield Health Apprentice
Find out what Ben Phizacklea, Apprentice Personal Trainer at Barrow Fitness & Wellbeing Centre, loves about being an apprentice at Nuffield Health.
Hints & Tips
Help with your application.
Once you've found the right role for you, you can apply online. All you need to do at this stage is submit your CV, a covering email, and a few personal details.
Our recruitment team screens all of the applications we receive. So, if they see that you've got the right sort of skills and experience needed for the role, your details will be passed on to the relevant hiring manager. Then, if you fit all the criteria at this stage, you'll be invited to take part in a video, telephone or face-to-face interview.
CV
Think about the skills and qualities asked for in the job description and show how you've applied those same skills and qualities in other roles. Focus on the things that will make us want to see more of you.
Covering email
Your CV will contain details about why you'd be a good fit for the role, but it's well worth adding a short, snappy paragraph pulling out the two or three most compelling reasons as to why you'd be perfect for the job in your covering email..
Video interview
The video interview lasts 15-20 minutes if you get to this stage. On the day, look the part, be aware of your surroundings and practice your answers to feel prepared. Most of all, relax and be yourself.
DBS Checks
Some of our roles require a DBS check and they are processed through the Disclosure and Barring Service (DBS) as part of the recruitment process. These checks are to assist employers in making safer recruitment decisions. However, a check is just one part of robust recruitment practice.